Your Ultimate Source for All‑Things Vegan
Get the world's #1 plant‑based magazine
Vibe
by Tanya Flink
September 13, 2022
Orange County occupies 42 miles of coastline in between the vegan mecca of Los Angeles and the more laid-back vibes of San Diego. It's a largely suburban county that encompasses a handful of private and state college campuses, a hippy beach vibe, and just enough pretention to be worthy of its own reality show. Despite its general health-and-fitness-oriented residents, this family-centric area has never matched the vegan innovations of its neighbor to the north (LA). However, that's not to say that the OC doesn't have its vegan hidden gems and downright destination eateries. It is also worth noting that Orange County is home to The Happiest Place on Earth, which has been continually upping its plant-based offerings over the past several years. Besides the boutique beaches, sunny weather, and Disneyland, here are 16 vegan restaurants that make Orange County a plant-based destination.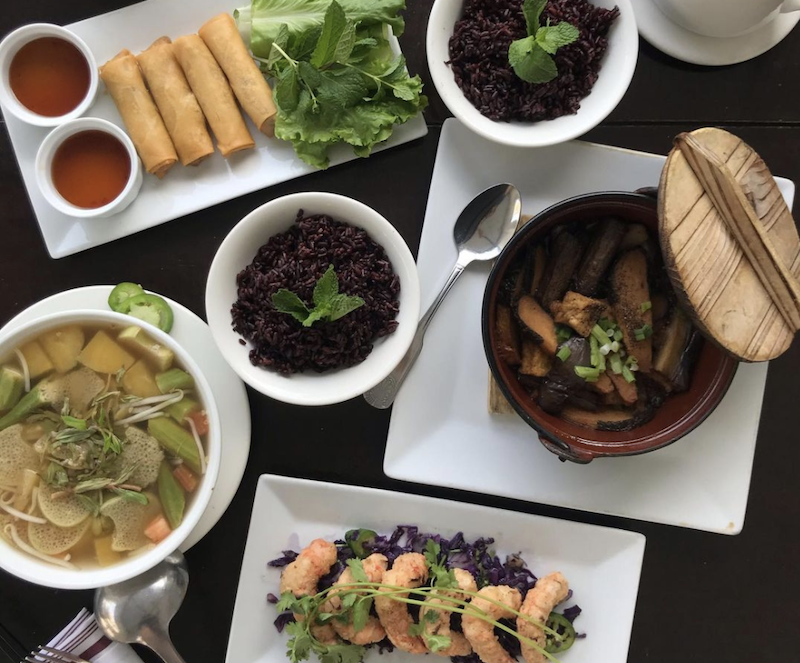 Au Lac
Fountain Valley is home to the original Au Lac—a Pan-Asian vegan restaurant serving both cooked and raw dishes in the OC since 1997. Its sister restaurant—Au Lac in Downtown Los Angeles, does have a more comprehensive menu, but we must pay the original its due respect. The red-hued main dining room is always packed, and to-go orders of BBQ Pork Spring Rolls, noodle soups, and raw Sea Salads are consistently ticking away. This place is best enjoyed with a group in order to try the most variety of dishes. Local tip: they pay special attention to birthdays. For those celebrating, they'll bring out an oversized plate of their famous raw cheesecake with the person's name written out in chocolate.
Find out more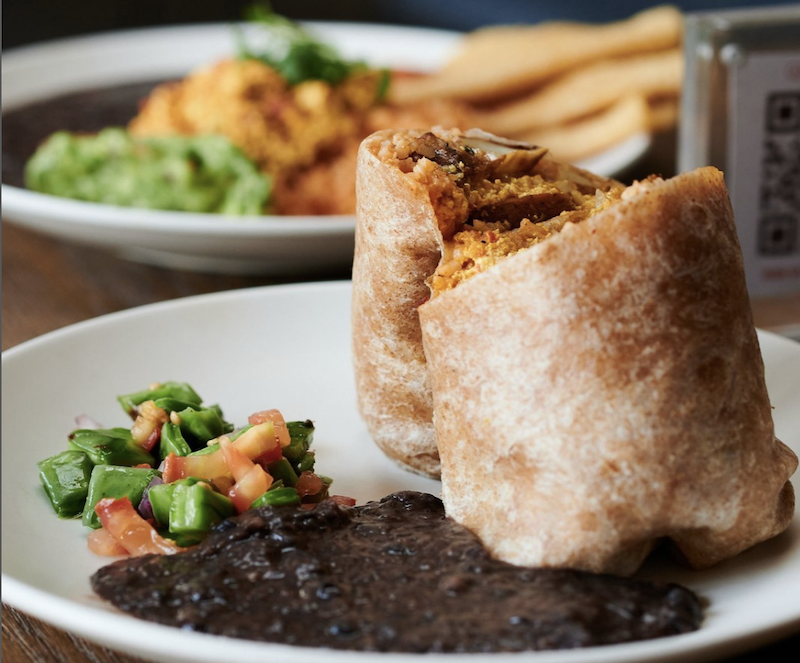 Gracias Madre
While technically a transplant from LA, Gracias Madre in Newport Beach has finally convinced the "I buy organic chicken and bone broth" crowd that plant-based cuisine can be cool. The mixed indoor/outdoor atmosphere is reason enough to grab a drink or brunch here. Pricing-wise, it's on the higher end, but the expertly crafted cocktails and cast-iron skillet of stretchy, gooey, molten queso fundido are more than worth it. Local favorites include the Caesar Salad, Chef's Salad (add marinated tofu), enchiladas verde, and the colossal Crunchwrap. No matter what day of the week it is, you're bound to be in the company of a handful of birthday celebrations. Gracias Madre is the place to leave your stress at home, enjoy good food and company, and just go in knowing you'll be a couple of twenties shorter at the end of the night. Local tip: skip dessert—it's the one place the kitchen falls short. Walk down the street to Kean Coffee and grab yourself a coffee cake or brownie made by locally-owned Giselle's Vegan Kitchen.
Find out more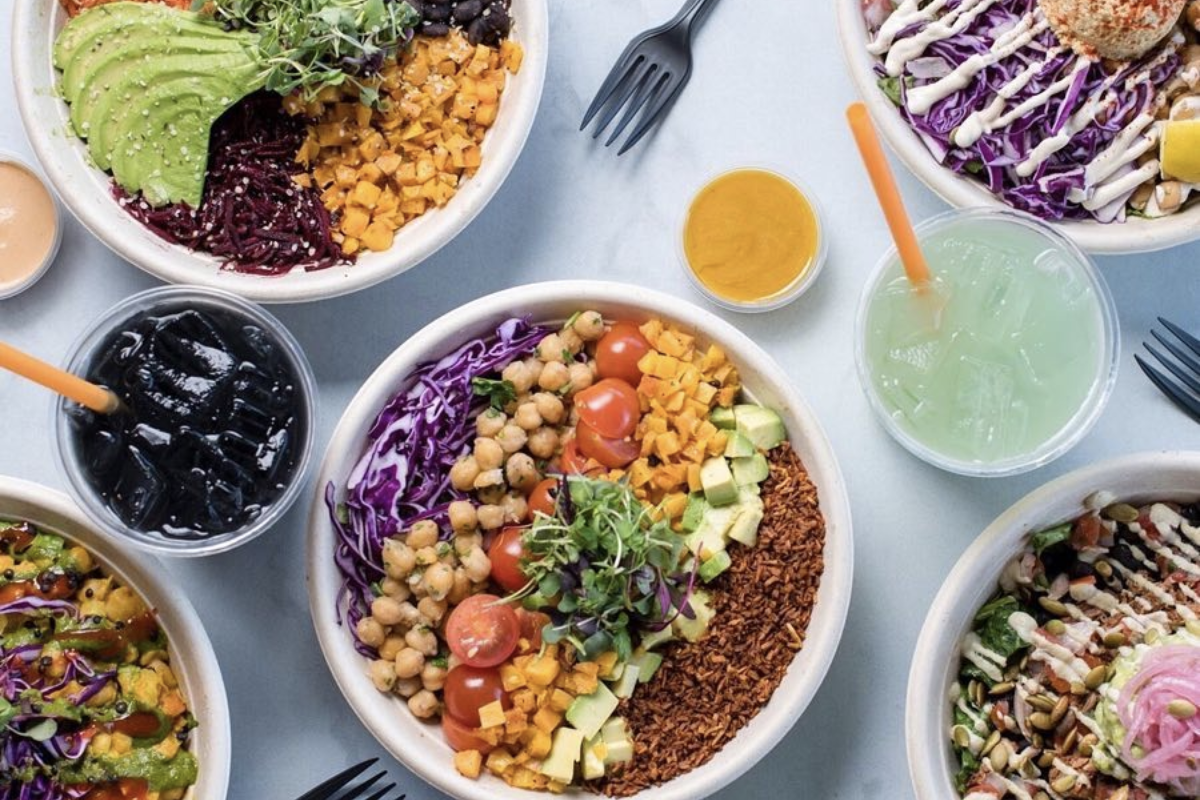 VIbe
Now with three locations in Orange County, this casual, allergen-friendly eatery is proving that healthy vegan food can be satisfying and craveable. Vibe is an all-day spot serving up juices, smoothies, hefty Buhdda bowls, and jaw-unhinging sandwiches to the office-working lunch crowds and post-spin class groups. Everything is homemade, gluten-free, and organic, with several soy-free options as well. For lunch or dinner, the Mediterranean Bowl crafted with greens, scratch-made chickpea frittata, hummus, cucumber, tomato, avocado, black lentils, and tahini is the thing to order for first-timers, though the burgers and all-day breakfast sandwich are solid contenders. Those brunching on the weekend must order the cauliflower-based Chicken and Waffles with roasted vegetable cashew gravy and sriracha maple syrup. It's the healthiest and yet the best plant-based chicken and waffles we've ever had the pleasure to devour.
Find out more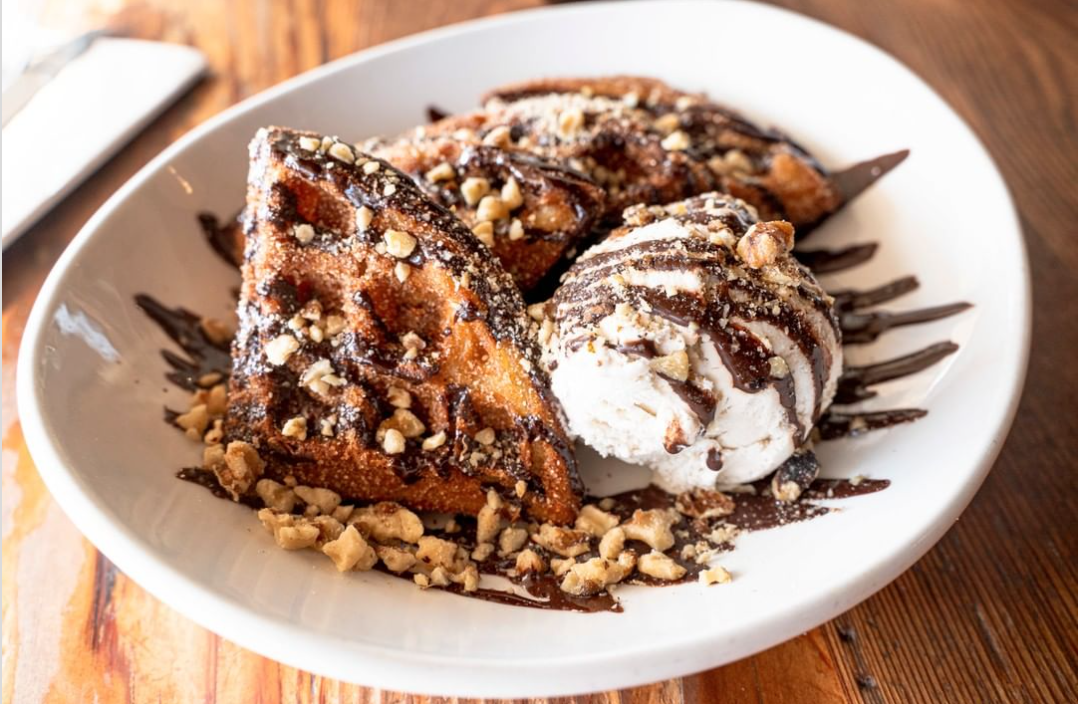 Seabirds Kitchen
Seabirds Kitchen put Orange County on the map as far as vegan dining is concerned. The wildly popular Costa Mesa restaurant (with other locations in Long Beach and Los Angeles) got its start as a food truck, even appearing on the Food Network's The Great Food Truck Race in 2013. The place is known for its breezy outdoor seating, scratch-made menu, and elevated yet familiar dishes. While the place nails both brunch and dinner, the uniqueness of the brunch options can't be beat. Order a fried pickle-garnished Birdy Mary and the Porque Maria—a vegan Monte Cristo sandwich made with house-smoked tofu, melty cashew gruyere, and arugula on toasted sourdough bread, dusted with powdered sugar and served with a side of the kitchen's strawberry jam. We start thinking about that dish on Mondays, just waiting for Saturday brunch. During the evening hours, you can't go wrong with any one of Seabirds' tacos, Old Town Grilled Cheese, or the Local's Bowl (ask to add jackfruit, they do it really well here). Finish the night by splitting the Chaffle—a giant, fluffy, cinnamon sugar-coated Belgian waffle topped with vanilla ice cream, chocolate sauce, and toasted walnuts.
Find out more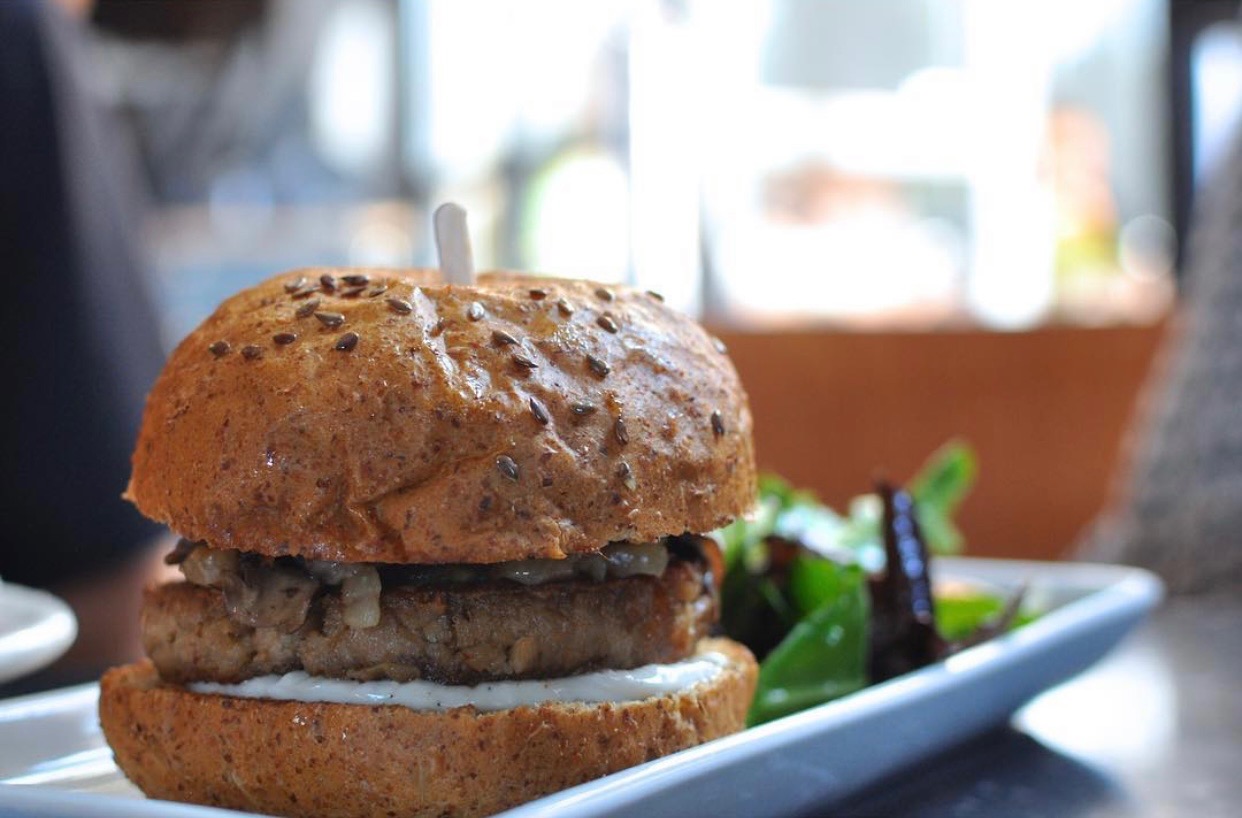 FreeSoulcaffe
Located in Old Town Orange, this airy bistro is perfect for lunch, dinner, and Saturday brunch. FreeSoulCaffee is a vegan gateway restaurant; it's a place to take the omnivorous parents or your non-vegan couple friends. The kitchen offers soups, salads, sandwiches, and ramen—all of which are spectacular—but the pizzas are the crowning glory of this place. It's painfully hard to decide which flavor to order, but the Brussels sprout pizza with the speckled, puffy crust and luxuriously creamy white sauce has become a favorite of ours. Don't worry, you can't go wrong here.
Find out more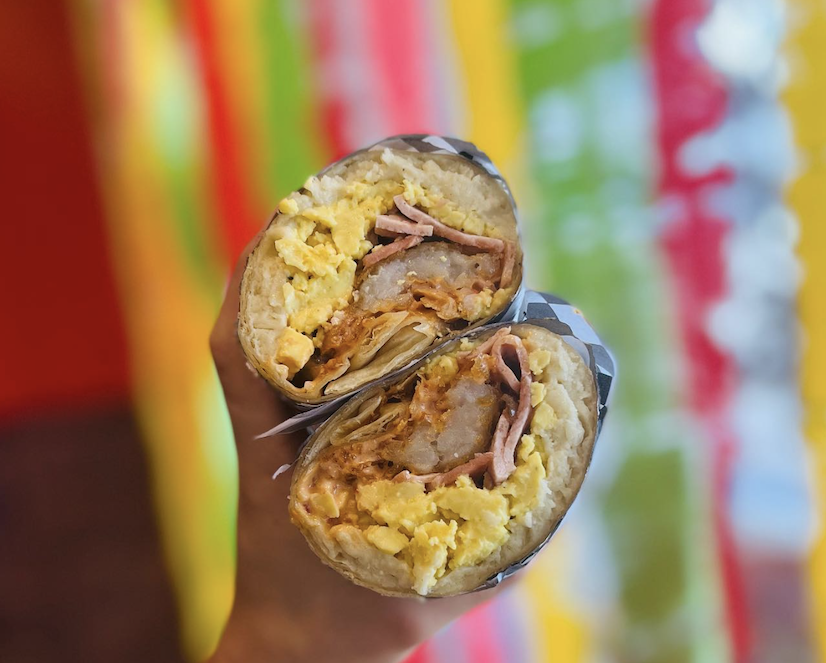 Vegan by El Zamorano
Unlike many vegan eateries, this fast-casual Mexican joint makes its own dairy-free cheese, and it melts and stretches like none other. At Vegan by El Zamorano, the prices are fair and the portions are enough to tie you over for an entire afternoon and through the evening. Yes, it offers the standard Latin meats like carne asada, pollo, chorizo, and carnitas, but the winning protein in our minds is the seasoned hibiscus option. It's unlike any seitan or mushroom-based meat we've ever had, and we love it. Try the Hibiscus Burrito or the Quesadilla Plate—it comes with fantastic refried beans and a side of Mexican rice.
Find out more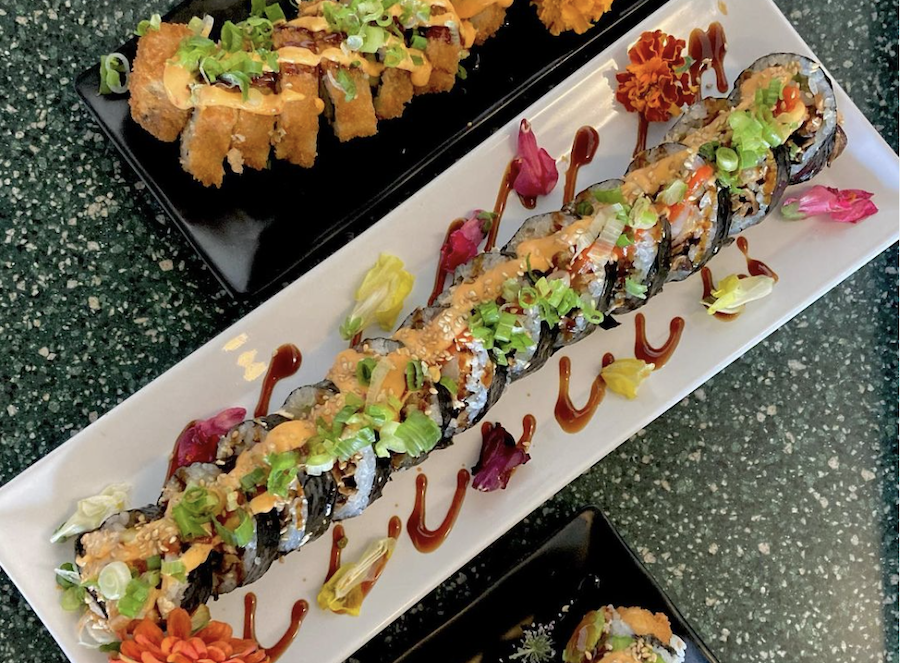 Kensho
When Naughty Panda shut down its flagship Santa Ana location and moved to Pasadena, CA, we had to find another vegan sushi spot in the OC. With locations in Westminister and Yorba Linda, Kenshō has addressed our craving for plant-based spicy tuna and spider rolls. The chefs have mastered vegan fish fairly well—it's not rubbery or mushy like some faux fish renditions and it's not bland in the slightest. Further, the eel sauce is well balanced and the spicy mayo provides enough flavor without blowing your head off. Local tip: while we do encourage ordering a few different rolls to split, a non-negotiable is the I Lava You. It's a California roll topped with seared oyster mushrooms and a generous drizzle of spicy mayo, sriracha, and eel sauce. If you've never had torched sushi, you're in for a treat.
Find out more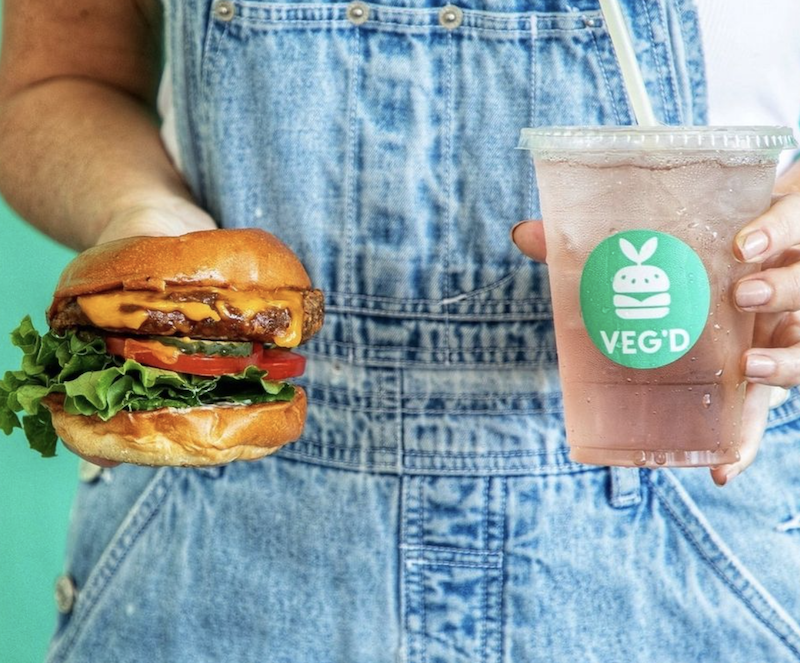 Veg'd
Just over one year old, this vegan drive-thru took over a dormant building of a former Del Taco. Imagined by celebrity chef and restauranteur Matthew Kenney, Veg'd serves up health-minded versions of vegan fast-food classics including burgers, sandwiches, nuggets, and a few fresh bowls and salads for good measure. The drive-thru also operates a breakfast program for those craving breakfast burritos and smoothies in the AM. Local tip: the classic fast-food combo is the way to go here. Order a burger, fries, and a cup of decadently creamy and nostalgia-inducing soft serve.
Find out more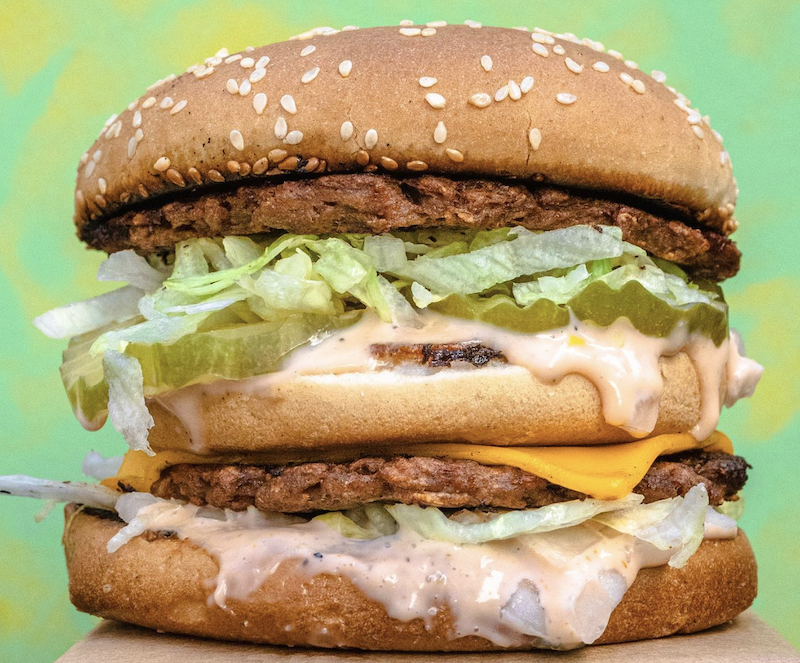 Nice Guys
Nice Guys is the kind of place you'd discover on Diners, Drive-Ins, and Dives. It's a tiny storefront in Costa Mesa with a cramped parking lot and a few covered tables outside. The dive focuses on unpretentious and old-school fast food, including super-stacked, greasy burgers; fried chicken sandwiches, and classic malt shakes. OC residents have come to love it, and the company has expanded into Stanton, Santa Ana, and Long Beach. Local tip: if you're in need of a late-night meal after a night out, visit the Santa Ana location. It's open until midnight.
Find out more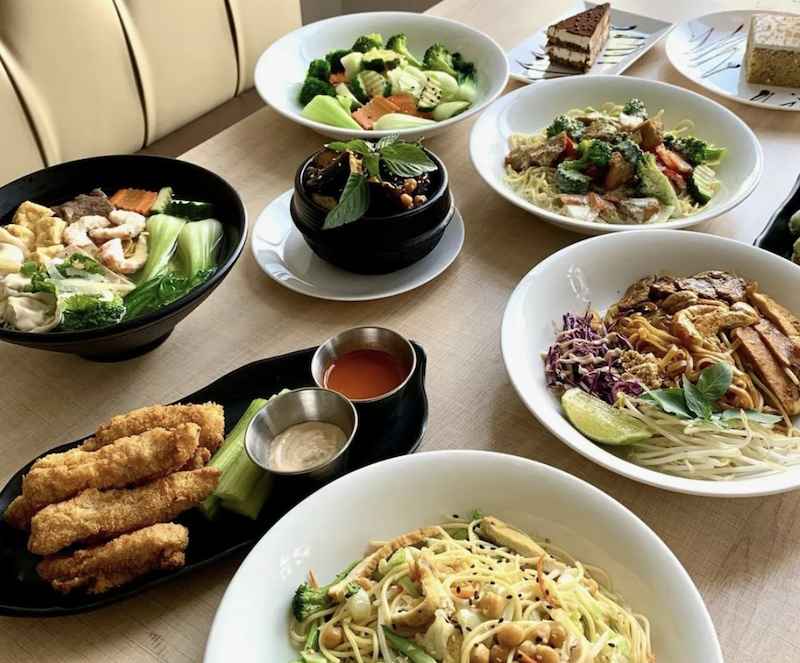 Eden
There aren't as many purely vegan restaurants in South County. For those looking for a 100-percent plant-based eatery south of Laguna, Eden in Dana Point and Lake Forest is your best bet. The menus at both locations reflect a wide range of Pan-Asian cuisine from rice dishes to noodle soups and Thai Salads to American cream cheese wontons. Expect plenty of fresh produce paired with vegan meats and flavorful sauces. It won't blow you out of the water, but Eden is a solid and satisfying option when you're in the mood for Americanized Asian cuisine.
Find out more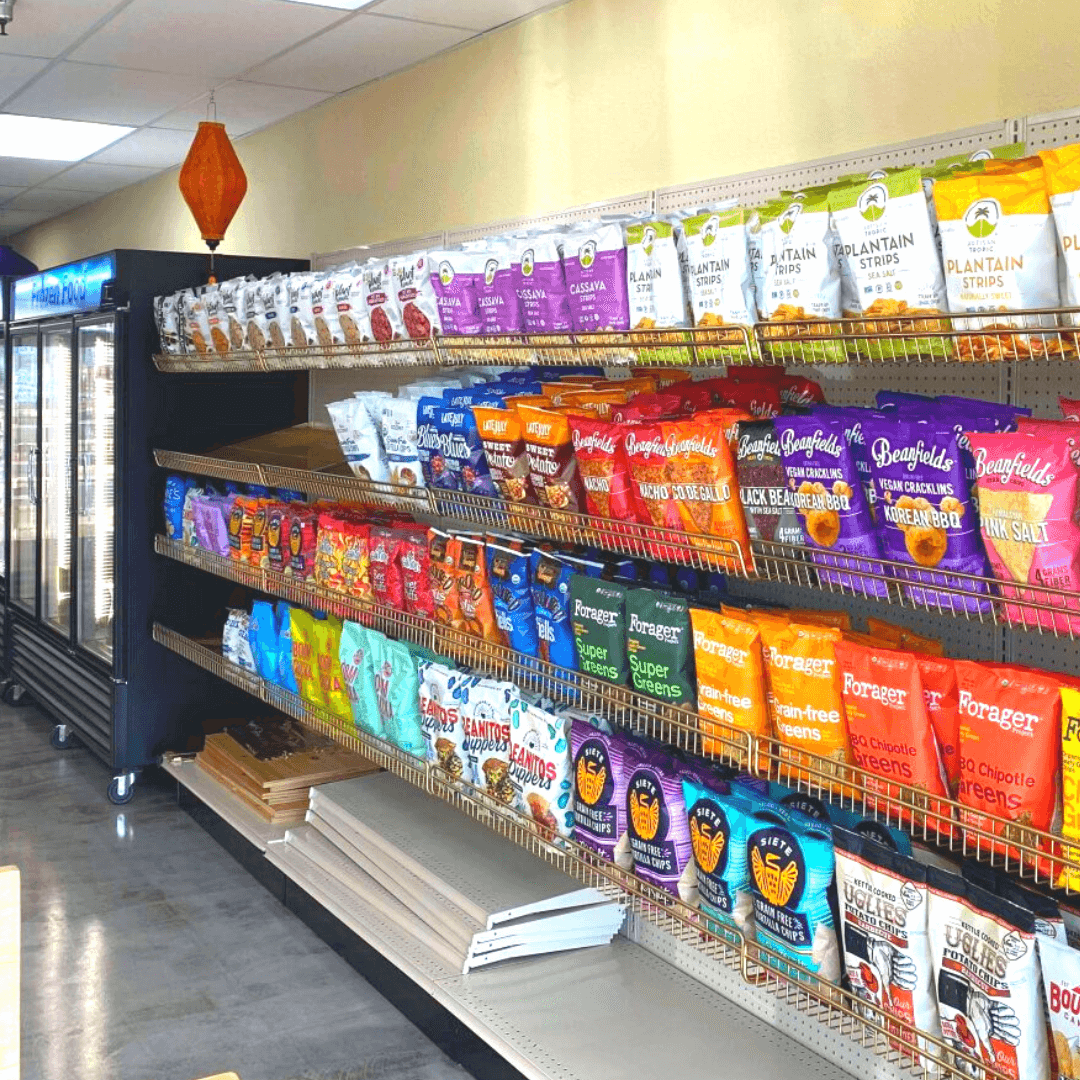 7 Vegan Market
Orange County's very own vegan grocery store can be found in Garden Grove, an inland city with a predominantly Asian population and several vegan restaurants (Saigon Vegan, Hoa Sen, and Thuyen Vien, just to name a few). The boutique shop itself resides in the same shopping center as Sub Vegan (a sandwich shop), Vegan Pizza, and Loving Hut—a global vegan restaurant chain. Before you stop into any of these establishments, stroll through Seven Vegan Market to wonder at all of the vegan innovations. From sauces and meats to snacks and cheeses, this place packs a dizzying amount of vegan products in such a small space. Be warned: the freshly baked cake slices situated right next to the register are impossible to resist. Our two favorites are the pandan and carrot cake. We've definitely purchased one of each on multiple occasions.
Find out more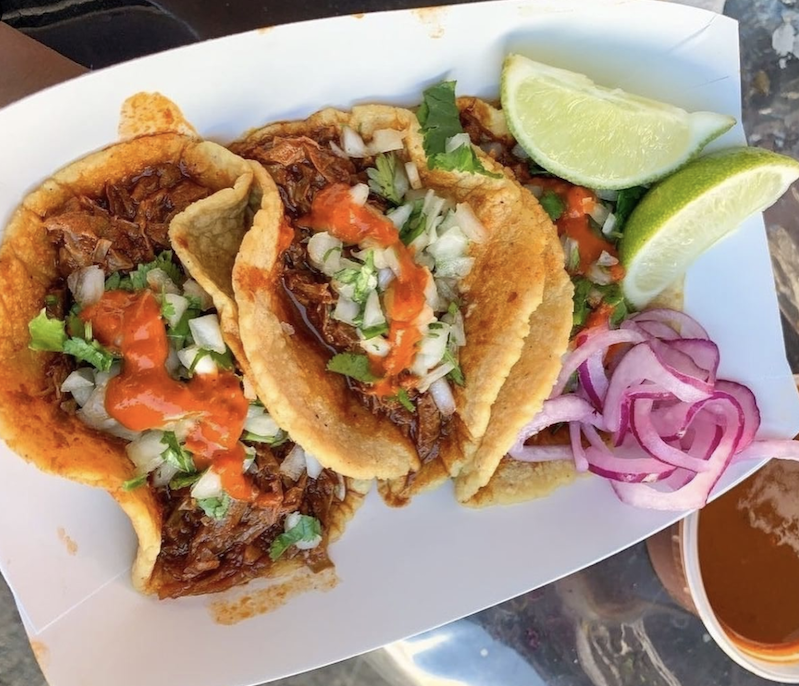 Cena Vegan
Not all vegan options in Orange County are brick-and-mortars. This monthly vegan street fair brings vegan food trucks and pop-ups from the OC and surrounding counties to downtown Santa Ana. Attendees can stroll from pop-up tent to food trailer to munch on a wide variety of sweet and savory delights, from incredible cupcakes at Two Birds Baking Co. to massive burritos at Cena Vegan. Follow @theplantdistrict on Instagram for the latest events and vendor lineups.
Find out more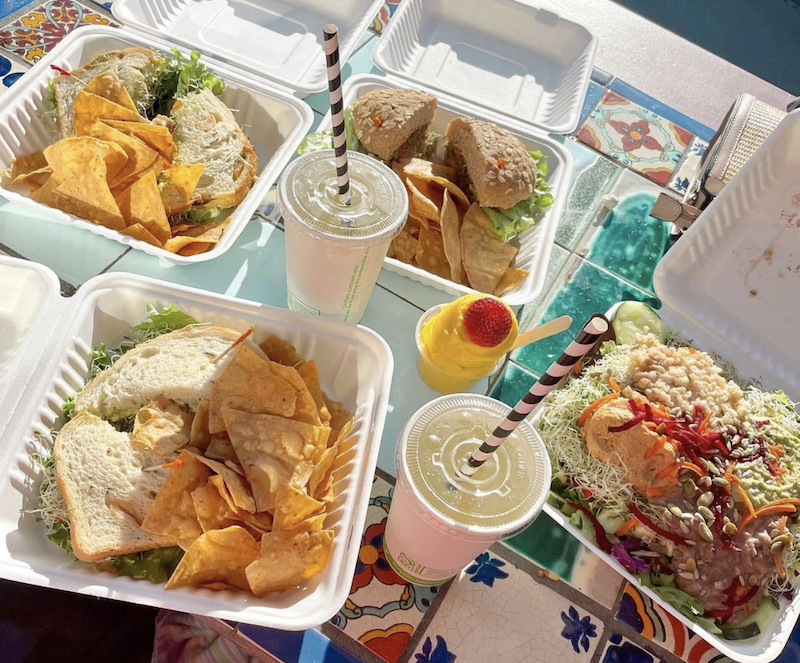 The Stand
Despite the lavish wealth associated with this coastal city, Laguna Beach has hippie roots, and still shows it today. The Stand is an authentic representation of this laid-back, artistic vibe, serving up sprout-stuffed sandwiches slathered with homemade hummus since 1975. The menu is old-school vegan. Instead of plant-based meat and cheese, you'll find an ample amount of beans, hummus, guacamole, and brown rice served up every which way—in a sandwich, as a burrito, and loaded onto a salad. It's simple food, but it's just what every pottery-making, sunrise surfing, beach cottage-residing Laguna Beach resident needs.
Find out more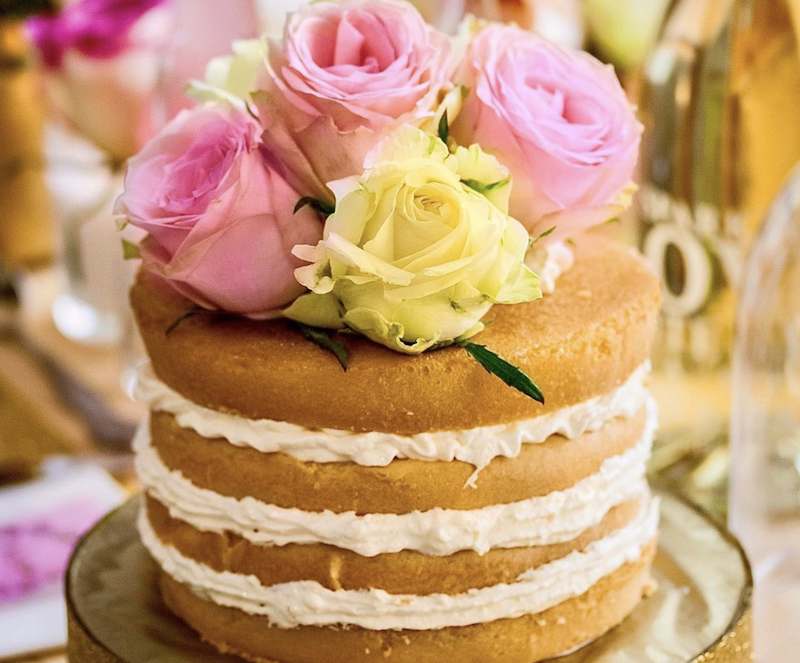 Giselle's Vegan Kitchen
A visit to Giselle's Vegan Kitchen is like walking into a fairy tale. Yes, the walls are painted pink and there's a literal oversized storybook on a pedestal, but the true magic lies in the vegan baked goods. Everything made in this wonderland of a bakery is gluten-free, refined sugar-free, and surprisingly low in calories while high in protein. We don't know how she does it, but her fudgy vegan brownies, tender icing-topped coffee cake, and rich tiramisu don't taste "healthy" or gluten-free at all. Those who live outside of the OC area can get a taste of this magic anytime they want. The bakery ships all of its offerings nationwide.
Find out more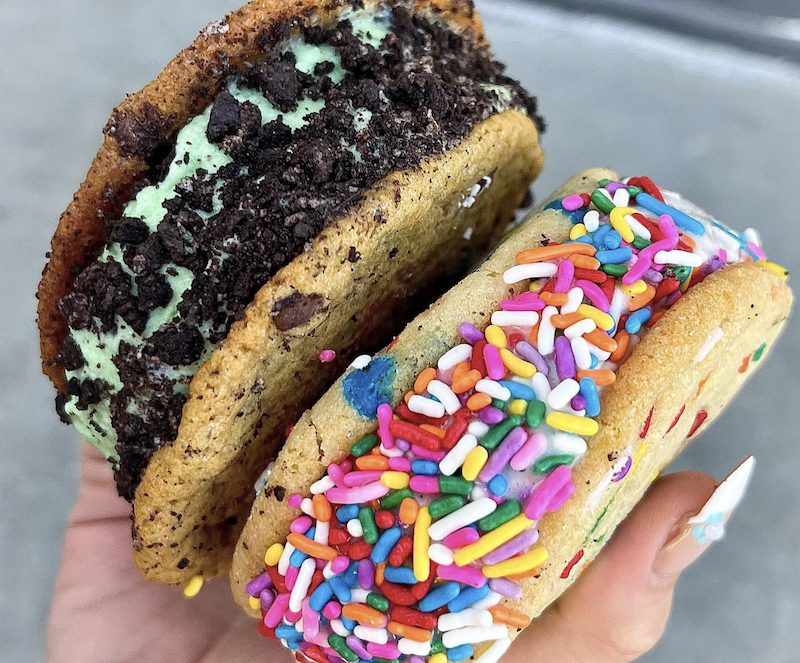 Hug Life
Orange County's first dairy-free scoop shop has made a name for itself in SoCal. Now with three locations spanning Orange, Garden Grove, and Long Beach, Hug Life has proven that vegan ice cream can be just as sweet as its dairy-based counterpart. The chain offers classic flavors like cookies and cream, chocolate, and rocky road intermixed with traditional Asian flavors such as Vietnamese Coffee, Yuzu Creamsicle, Taro, and Matcha Monster. Customers can order by the scoop, with a brownie, or in one of Hug Life's perfectly balanced (and sizeable) milkshakes. No matter what time of year, OC residents can be found closing the place down at 10pm every single night.
Find out more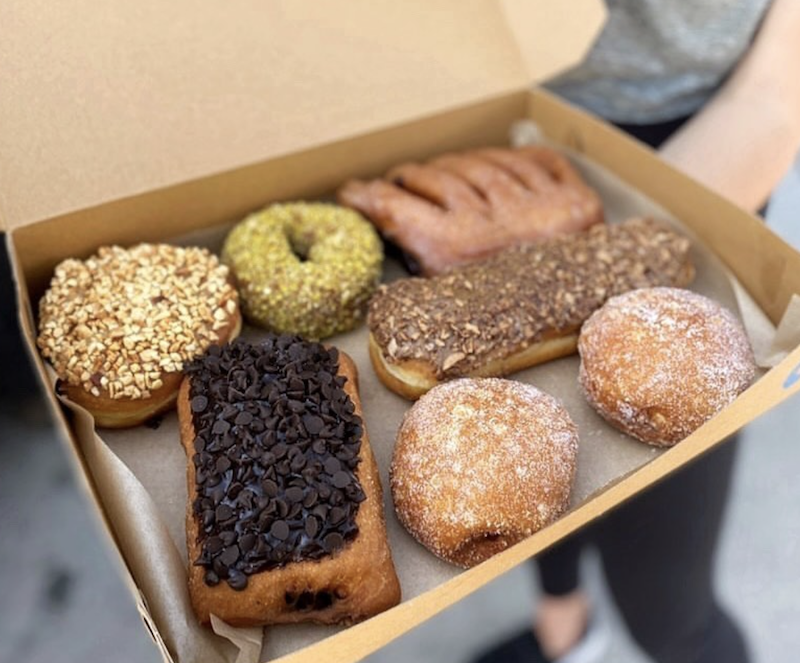 The Donuttery
Imagine a place where the vegan doughnuts are stacked high on eight-foot bakery trays, available 24-7, including holidays. Such a place does exist, and it's right off Beach Boulevard in Huntington Beach, CA. While not all vegan, the plant-based selection of no-frills vegan yeasted and cake doughnuts is enough to incite major decision paralysis. If you're not purchasing for a crowd, here are the absolute must-trys: vegan blueberry cake doughnut (glazed, not frosted), sprinkles cake doughnut, and jelly-filled. Buying for a group? Get a baker's dozen of glazed twists, maple bars, pistachio cake, and assorted Long Johns.
Find out more
For more on vegan California hot spots, read:
The Ultimate Vegan California Road Trip
A Vegan Guide to Napa and California Wine Country
A Local Take on the 12 Best Restaurants in San Diego
Tanya Flink is a Digital Editor at VegNews as well as a writer and runner living in Orange County, CA.
Love vegan weddings? So do we! Introducing VeganWeddings.com, from the editors of VegNews.
See More
Love vegan weddings? So do we! Introducing VeganWeddings.com, from the editors of VegNews.
See More
Never miss out on breaking stories, recipes, and vegan deals
All-things vegan,
in your mailbox and inbox
Only $25
by Tanya Flink
by Tanya Flink
by Rose Bruno Bailey
by Aja Goare
by Tanya Flink
by Tanya Flink
Get the world's #1 plant–based magazine
Copyright © 2022 Fresh Healthy Media, LLC